The 20 Most Expensive Paintings In the World
The list of paintings and figures mentioned below have been compiled from various sources around the web, such as Work and Money & World Economic Forum.
These are the 20 most expensive paintings in the world:
20. Untitled – Jean-Michel Basquiat – $110.5 Million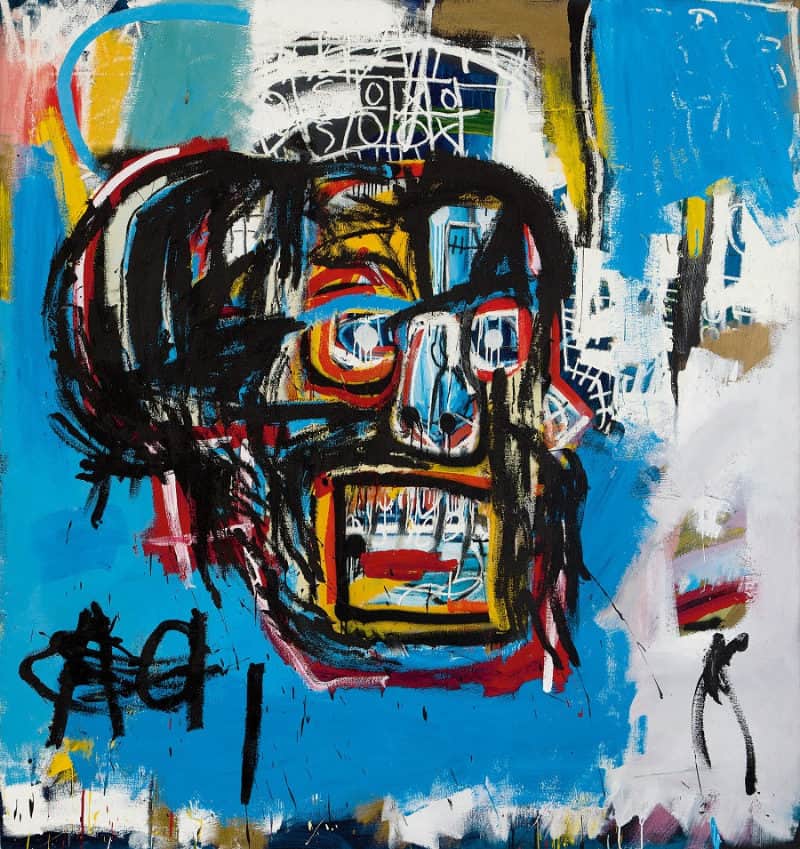 In twentieth place, we have "Untitled", by NYC graffiti artist Jean-Michel Basquiat.
His world famous depiction of a skull, using spray paint, sold for more than $110.5 million in 2017.
The sale made "Untitled" the highest price ever paid for a piece of art created after 1980.
Basquiat worked with artists like Andy Warhol and exhibited his work in some of the worlds most prestigious galleries.
Yusaku Maezawa, a Japanese billionaire, purchased "Untitled" for his collection.
19. Reclining Nude With Blue Cushion – Amedeo Modigliani – $118 Million
Next up is the 1917 piece – Reclining Nude With Blue Cushion by Amedeo Modigliani.
It is one of several nude female portraits he's known for creating.
Modigliani is also known for his interesting character and behaviour, as he would often swap or trade his paintings for alcohol, food or drugs.
Reclining Nude With Blue Cushion was purchased by a Russian billionaire, Dmitry Rybolovlevn in 2012.
18. The Scream – Edvard Munch – $119.9 Million
As well as being one of the most expensive paintings in the word, "The Scream" is also one of the most famous and iconic.
There are four versions of The Scream, and this one is a lot less valuable than the 1893 oil painting rendition, which is currently on display in Oslo, Norway's National Gallery.
"The Scream" was purchased by billionaire financier Leon Black in 2012.
17. Portrait of Adele Bloch-Bauer I – Gustav Klimt – 5 Million
Next on the list is "The Lady in Gold", painted by Austrian artist, Gustav Klimt.
The painting is of a Jewish banker's wife set in 1907 and was purchased by Ronald Lauder, a Russian billionaire, in 2006.
Portrait of Adele Bloch-Bauer is currently being displayed in New York's Neue Galerie.
16. Woman III – Willem de Kooning – $137.5 Million
Painted by Dutch expressionist Willem de Kooning in the early 1950s, Woman III sold for $137.5 million dollars in 2006.
It was previously housed in Tehran's Museum of Contemporary Art, Iran. However, it was considered to be too offensive to the eye and taken down.
After a short stint with David Geffen, billionaire hedge fund manager Steven A. Cohen acquired it for his private collection.
15. No. 5, 1948 – Jackson Pollock – $140 Million
If you had $140 million to invest then the No. 5, 1948 by Jackson Pollock could have been just the investment you were looking for.
Related:
The 30 Richest Singers in the World
However, it sold to an unknown buyer in 2006 and interestingly, was actually not the original piece. It was sold just over a year later to the artist, Alfonso A. Ossorio for a mere $1,500.
After being damaged in Ossorios house, Pollock offered to repair it, but ended up re-painting the whole thing!
14. Three Studies of Lucian Freud – Francis Bacon – $142.4 Million
Francis Bacon painted this piece, of his friend and rival Lucian Freud, in 1969.
It became one of the most expensive and famous paintings ever, eventually catching the eye of Elaine Wynn, who bought it at auction in 2013.
The sale was at the time a record auction price however, it has since been surpassed by some of the other paintings on the list.
13. Portrait of Adele Bloch-Bauer II – Gustav Klimt – $150 Million
Coming in at number thirteen on our list of most expensive paintings is another painting by Gustav Klimt.
Selling for a whopping $150 million in 2016, "Portrait of Adele Bloch-Bauer II" is the less famous of the two portraits he painted of Bloch-Bauer.
Unfortunately, both paintings were stolen by the Nazis during World War II. Luckily, however, they were retrieved and donated to Vienna's Galerie Belvedere museum.
After the Bloch Bauer estate regained ownership, they sold it to Oprah Winfrey, who then sold it to an unknown Chinese buyer.
12. Le Rêve – Pablo Picasso – $155 Million
Le Rêve or "The Dream" as it translates, is one of Picasso's most iconic paintings. The piece of art is of Marie-Thérèse Walter, who was Picasso's mistress.
Casino tycoon Steve Wynn owned the artwork for 12 years and agreed to sell it to Steven A.Cohen. However, after a slip of an elbow from Mr Wynn, the painted was devalued by $55 million and the deal was put on hold until it was fully restored.
Cohen did eventually buy the painting but for a lot less than previously agreed.
11. Nu couché (sur le côté gauche) – Amedeo Modigliani – $157.2 Million
Modigliani's 1917 painting of a naked woman on a red sofa became a record-breaking piece of art when it sold at Sotheby's New York auction to an anonymous buyer in May 2018.
The artist also painted another very similar painting, "Nu couché,", but this one is a lot bigger and captures the entire female figure from head to toe.
Chinese stock-market-billionaire Liu Yiqian bought the piece to display in his Shanghai museums.
10. Masterpiece – Roy Lichtenstein – $165 Million
The tenth most expensive painting in the world is Lichtenstein's 1962 – "Masterpiece".
The painting was inspired by comic book illustrations, and competes alongside some of his other famous pieces including "Whaam!" and "Look Mickey".
In 2017 hedge-fund billionaire and avid art collector Steven A. Cohen, bought the piece for the hefty sum of $165 million!
9. Nu couché – Amedeo Modigliani – $170.4 Million
This is Modigliani's most famous nude, made public in 1917 at his solo exhibition in Paris.
Related:
The Top 50 Best Gym Motivation Videos on the Web
It depicts a naked woman on a red sofa, similar to the one we previously mentioned.
However, this version was purchased for an astronomical sum by Chinese billionaire Liu Yiqian.
It was reported that he purchased the piece in a single transaction using his American Express Card.
8. Les Femmes d' Alger ("Version O") – Pablo Picasso – $197.4 Million
Les Femmes d' Alger ("Version O") was part of the 1954-55 series from Picasso called "Les Femmes d'Alger" ("Women of Algiers").
It was the last of 15 versions in the series, which was considered to be a tribute to his friend Henri Matisse.
Until Salvator Mundi broke the record, Les Femmes d' Alger ("Version O") was the most expensive painting sold at auction for two years.
The piece was purchased by Hamad bin Jassim bin Jaber Al Thani, the former prime minister of Qatar.

7. Pendant portraits of Maerten Soolmans and Oopjen Coppit – Rembrandt – $180 Million
Painted to celebrate the wedding of Maerten and Oopjen in 1634, these two Rembrandt paintings have never been separated.
Art experts and historians agree that the paintings should always be displayed together and never apart.
They were purchased by the Louvre and the Rijksmuseum in 2015 as a joint venture, each paying 50%.
6. No. 6 (Violet, Green and Red) – Mark Rothko – $186 Million
It might not be to everyone's taste, but No. 6 (Violet, Green and Red) has had a profound influence on contemporary art since its release.
The painting might be even more famous for being one of 36 pieces in the "Bouvier Affair". This is an ongoing court battle between Russian tycoon Dmitry Rybolovlev and his art dealer, Yves Bouvier.
Dmitry claims that Yves defrauded him out of hundreds of millions of dollars, overcharging him for multiple paintings, which Yves strongly denies!
5. Number 17A – Jackson Pollock – $200 Million
This 1948 painting by Jackson Pollock was the second piece of artwork bought in a $500 million deal by hedge fund manager Kenneth C Griffin in 2015.
"Number 17A" isn't on public display at the moment, however, there are many exceptional Pollock collections on display in museums around the world, including the New York's Museum of Modern Art (MOMA).
4. Nafea Faa Ipoipo – Paul Gauguin – $210 Million
French post-impressionist Paul Gauguin painted this piece when he was on his first trip to Tahiti.
It was one of many he painted of the native woman on the island and its title translates to "When Will You Marry?".
The artwork has also previously been called the most expensive painting in the world, selling for $210 million in 2015 after two years of negotiations.
3. The Card Players – Paul Cézanne – $250 Million
The third most expensive painting in the world is "The Card Players", by Paul Cézanna.
It's one of five paintings included in the French master's 1890s' series of the same name.
It was purchased by the Royal Family of Qatar in 2011, reportedly paying double the existing record for any artwork to be sold at auction.
Related:
The 30 Most Expensive Cars in the World
2. Interchange – Willem de Kooning – $300 Million
Willem de Kooning's famed 1955 piece was inspired by his surroundings whilst living in NYC and commanded the highest price ever paid in a private sale.
Hedge fund billionaire Kenneth C Griffin bought it alongside his Jackson Pollock Number 17A purchase, in a $500 million deal.
If you want to take a look at one of the most expensive paintings in the world, then the "Interchange" is currently displayed at the Art Institute of Chicago.
1. Salvator Mundi – Leonardo da Vinci – $450.3 Million

Leonardo da Vinci's depiction of Jesus Christ holding a crystal orb is the most expensive painting in the world!
The painting was commissioned by King Louis XII of France in 1605, during the same period as the Mona Lisa.
However, somewhere between 1763 and 1900, it disappeared from all records until it was rediscovered in 2005, by a group of British art dealers.
Purchasing the painting for $10,000 they spent six years restoring and investigating its history before eventually announcing that it was a Da Vinci original.
The painting was exhibited in 2011 by the National Gallery of London and became known as the "Lost Leonardo", as it was the first discovery of a Da Vinci since 1909.
The "Savior of the World" (Salvator Mundi) was purchased by the Crown Prince of Saudi Arabia, Mohammed bin Salman on behalf of the Abu Dhabi Department of Culture & Tourism.

Summary
We hope you enjoyed our list of the 20 most expensive paintings in the world.
They're certainly some incredible pieces of artwork, even the least expensive ones on the list. However, I think I'll stick to cars and motorbikes for now!
Here's a quick recap of the 20 most expensive paintings in the world:
Salvator Mundi – Leonardo da Vinci – $450.3 Million
Interchange – Willem de Kooning – $300 Million
The Card Players – Paul Cézanne – $250 Million
Nafea Faa Ipoipo – Paul Gauguin – $210 Million
Number 17A – Jackson Pollock – $200 Million
No. 6 (Violet, Green and Red) – Mark Rothko – $186 Million
Pendant portraits of Maerten Soolmans and Oopjen Coppit – Rembrandt – $180 Million
Les Femmes d' Alger ("Version O") – Pablo Picasso – $197.4 Million
Nu couché – Amedeo Modigliani – $170.4 Million
Masterpiece – Roy Lichtenstein – $165 Million
Nu couché (Sur le côté gauche) – Amedeo Modigliani – $157.2 Million
Le Rêve – Pablo Picasso – $155 Million
Portrait of Adele Bloch-Bauer II – Gustav Klimt – $150 Million
Three Studies of Lucian Freud – Francis Bacon – $142.4 Million
No. 5, 1948 – Jackson Pollock – $140 Million
Woman III – Willem de Kooning – $137.5 Million
Portrait of Adele Bloch-Bauer I – Gustav Klimt – $135 Million
The Scream – Edvard Munch – $119.9 Million
Reclining Nude With Blue Cushion – Amedeo Modigliani – $118 Million
Untitled – Jean-Michel Basquiat – $110.5 Million
Source: https://wealthygorilla.com/most-expensive-paintings/